Magazine
Sang i et fremmed land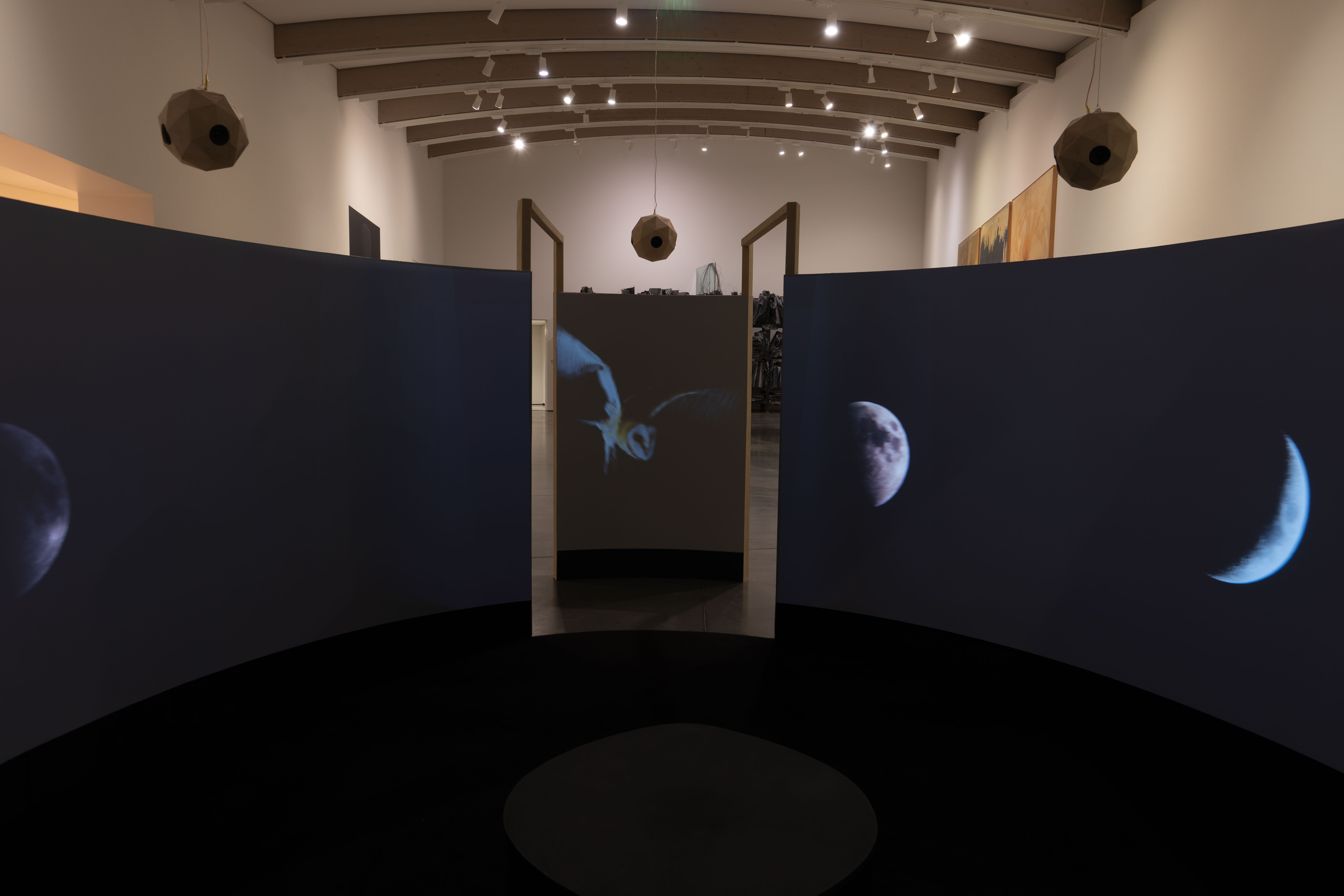 (Singing in a Strange Counry)
by Irmgard Emmelhainz
The egg-shaped structure containing Nora Adwan's video installation has exterior walls that are faceted and painted in a kind of tahini color. On the inside, there is a smooth projection surface. One video is projected onto the door, and a second one stretches around the walls of the structure. In the videos, it is either dusk or night—a moment of transition, the moment in which everything here, now will be like something there, then:
By night we shall be like ourselves
We shall be scorched by the eternal star of likeness,
My child![1]
The lullabies we hear in the soundscape are in Arabic and Norwegian, sung by different generations of both Norwegian and Palestinian women. The video captures the women's hand gestures recorded by the artist while they were singing and talking. Other images we see going around the structure combine the Norwegian landscape with representations of Palestine and the nostalgia of exile. At the center of the piece is an interrogation of the transmission of sensible knowledge over generations and at a distance. When memories are flawed and dreams are possible, can the intangible be transmitted? Can belonging be inherited? What is the homeland? How does it feel when one is an exile? How are the intangible elements of a culture lived in everyday life? Does it matter if one is a first, second, or third generation exile?
HOME IS EQUAL PARTS ARCHITECTURAL & GUTTURAL[2]
The symbols we see in the images have multiple meanings: the pomegranate and the watermelon, among other things, symbolize nostalgia for the homeland in the diaspora. Owls are reminiscent of the Adwan family village as it features in local folktales. They symbolize night, dreams, or nightmares. The moon is a symbol of female beauty and fertility as well as the stillness late at night where a present untouched by yesterday can emerge. Olive trees and pigeons are also charged symbols in Palestinian culture, while the apple blossom and the fjord represent Norwegian culture and the backdrop to the diasporic bubble. The collection of symbols and the lullabies symbolize the gradual loss of language and the acquisition of a non-mother tongue, existing in translation, passing down intangible heritage, as well as adapting and adopting a new culture.
Palestinians are told again and again that, in a certain sense, they don't really exist. They only exist as refugees, terrorists, victims—as everything except Palestinians. Their existence is thus traversed by threat, prejudice, sadness, and uncertainty. Edward Said wrote, "The state of exile is a pretty serious and unpleasant experience. Somebody has been sent away, banished, severed from his or her native place. This was traditionally considered one of the worst fates."[3] Exile is dispossession, impermanence, loss. Exile is a permanent state, something you cannot get over; Said compares it to a fall from paradise. At the same time, exile is a double experience in the sense that past and present experiences multiply and complexify. It means having inaccurate memories of one place slipping into memories of another, passed on, generation to generation. In exile, personal identity and experience in the new land coexist with the collective vision of the homeland in the process of being lost. After Simone Weil, when a plant is uprooted, it withers and then dies; the same happens to a person, or a people. Roots are a spiritual need and a basic human right.[4] All the while, Palestinians feel like their country and people should not be effaced and forgotten, that they should continue to fight and struggle toward something that will take them out of the string of catastrophes. So her land is like an embroidered robe with a needle of za'atar, and nighttime is when her grandfather wakes up to glean olives from the grove. Nighttime is a present with no place, a present untouched by yesterday, where, even though her father made her bear the burden of her story, she can change her name; where she can give birth to herself and to her son; and where she can choose to write their name in upright letters.
It's rain & you were born before it | you were born in your body | just like that | no one refutes these areas were made to carry letters & the letters lapsed | in a world of fewer babies you were born | dear RIOT COSMOLOGY | I never thought I'd be a national vessel | febrile & inlaid | undulating so | we worked hard to be fruitful & plenty[5]
[1] Mahmoud Darwish, How Many Times Shall Things Be Over? Why did you leave the horse alone? (London: Hesperus Press, 2014), p. 25.
[2] Nathalie Khankan, Quiet Orient Riot (Oakland: Omnidawn, 2020), p. 65.
[3] Edward Said, "The Voice of a Palestinian in Exile," Third Text Vol. 2, 1988, pp. 39–50.
[4] Simone Weil, The Need for Roots (London and New York: Routledge, 2009).
[5] Nathalie Khankan, Quiet Orient Riot, p. 67.
---
---