Magazine
Lilia Prado is a Superstar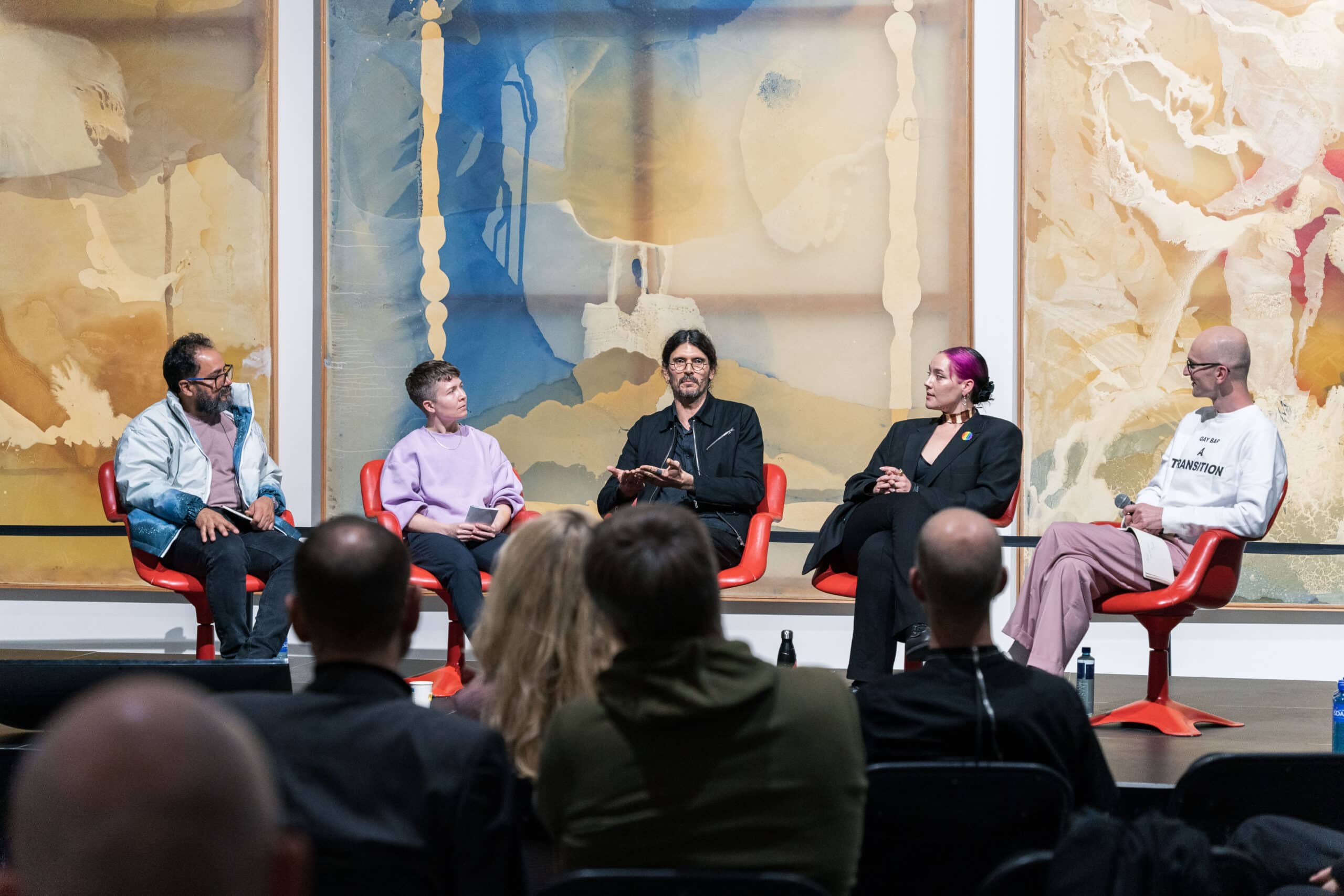 The symposium Lilia Prado is a Superstar – What is queer history, readymade? took place over two days on Friday 21 and Saturday 22 October 2022 at Astrup Fearnley Museet.
The occasion prompts various questions about how we are imagining, making, performing, writing queer histories—as well as the real, speculative, found, imagined iconographies and genealogies informing them.
Performance, lectures and talks by Christian Bendayán, Mathias Danbolt, Elizabeth Freeman, D Harding, Sam Hultin, Dragos Olea & Sandra Demetrescu of KILOBASE BUCHAREST, Timimie Märak, Abdellah Taïa, and Arnisa Zeqo. ⁠
Now you can see the whole symposium online, in two parts.
---
Part I, Friday:
Watch by chapter:
00:00:00–00:03:53 Welcome by Solveig Øvstebø, Director, Astrup Fearnley Museet, Oslo
00:03:53–00:11:06 Introduction by Hendrik Folkerts, Curator of International Contemporary Art and Head of Exhibitions, Moderna Museet, Stockholm
00:11:06–01:04:03 Performance "MY EGYPTIAN MOVIES" by Abdellah Taïa, writer, Paris, France
01:04:04–01:44:20 Q&A with Abdellah Taïa, moderated by Hendrik Folkerts
---
Part II, Saturday:
Watch by chapter:
00:00:00–00:02:08 Welcome by Solveig Øvstebø
00:02:08–00:09:56 Introduction by Hendrik Folkerts
00:09:56–01:09:16 Lecture by Mathias Danbolt (Professor of Art History at University of Copenhagen, Denmark) – Against Queer Monumentalism: Diary from Queer Cultural Year
01:09:16–02:10:43 Lecture by Arnisa Zeqo (curator and writer, Amsterdam, The Netherlands) – Never Knowing Ulises, or What it means to be a star?
02:10:43–03:03:27 Performance lecture by KILOBASE BUCHAREST (curatorial collective with Dragos Olea and Sandra Demetrescu, Bucharest, Romania) – Museum Fictions, A performative unfolding of a manifesto ~ queer methodology ~ machine of otherness ready to pickle with fiction the paradigmatic gap between the frozen ~ the fluid hot ~ the knowledge of The Museum
03:03:27–04:20:28 Key-note lecture and film screening with Elizabeth Freeman (Professor of English, University of California, Davis, USA) – Karen Carpenter Was a Superstar Too: Todd Haynes, Erotohistoriography, and the Anti-Readymade, Elizabeth Freeman (Professor of English, University of California, Davis, USA)
04:20:28–04:59:55 Q&A with Elizabeth Freeman and Arnisa Zeqo, moderated by Hendrik Folkerts
04:59:55–05:03:36 Introduction to Found Objects by Solveig Øvstebø
05:03:36–05:20:33 Panel presentation Christian Bendayán (artist, Lima, Peru)
05:20:33–05:36:52 Panel presentation D Harding (artist, Brisbane, Australia)
05:36:52–05:48:21 Panel presentation Sam Hultin (artist, Stockholm, Sweden)
05:48:21–06:06:58 Panel presentation Timimie Märak (artist and poet, Stockholm, Sweden)
06:06:58–06:54:11 Conversation Found Objects with Christian Bendayán, D Harding, Sam Hultin, and Timimie Märak, moderated by Hendrik Folkerts
06:54:11–07:10:44 Epilogue by Timimie Märak
---
The participants:
Christian Bendayán is a self-taught visual artist and curator. His work is deeply inspired by the history, visual culture, and biodiversity of the Amazon region. In 2012, he received the National Culture Prize granted by the Peruvian Ministry of Culture and in 2001 received the First National Award in Visual Arts called "Pasaporte para un artista" [Passport for an artist]. Throughout his career he has represented his country in different biennials, triennials, and art exhibitions in museums around the world; Museum of Arts of the University of Guadalajara: the 58th Venice Biennale; Curitiba; Valencia – Sao Paulo; Mercosul, and the Triennial of Chile amongst others. In 2010 he was the Director of the National Culture Institute (INC) of Loreto-Peru and is founder and director of Bufeo. Amazonía + Arte since 2015. Bendayán has published many books and curated Amazonian Art exhibitions in Peru and abroad.
Mathias Danbolt is an art historian with a special focus on queer, feminist, and decolonial perspectives on art and visual culture. Danbolt is currently leading the collective research projects "The Art of Nordic Colonialism: Writing Transcultural Art Histories" (2019-2021) and "Moving Monuments: The Life of Sculpture from the Danish Colonial Era". Danbolt is professor of art history at University of Copenhagen.
Hendrik Folkerts is Curator of International Contemporary Art and Head of Exhibitions at Moderna Museet, Stockholm. He specializes in commissioning and an artist-centered curatorial approach that highlights notions of care, hospitality, and process based exhibition-making. At the Moderna Museet—and in previous positions at the Art Institute of Chicago, documenta 14, the Stedelijk Museum Amsterdam, and De Appel arts centre—Folkerts has curated numerous solo and international group exhibitions as well as collection presentations, new commissions, and program series, anchored in the expanded field of performance and building on feminist, queer, and anti-colonial histories of art.
Elizabeth Freeman is Professor of English and Associate Dean of the Faculty in the Humanities, Arts, and Cultural Studies at the University of California, Davis. She is the author of three books from Duke University Press: The Wedding Complex (2002), Time Binds (2010), and Beside You in Time (2019). She has also edited a special issue of GLQ, Queer Temporalities (2007); co-edited a special issue of South Atlantic Quarterly, Crip Temporalities (2021, with Ellen Samuels), and co-edited an anthology, Queer Kinship (Duke University Press, 2022, with Tyler Bradway). She was the editor of GLQ from 2011-2017, and is currently working on a book on care work and reading practices, "Endless Love: Reading, Care, and the Work of Repair."
D Harding works in a wide variety of media to explore the visual and social languages of their communities as cultural continuum. A descendant of the Bidjara, Ghungalu, and Garingbal peoples, they draw upon and maintains the spiritual and philosophical sensibilities of their cultural inheritance within the framework of contemporary art internationally. Harding's work has been the subject of numerous solo exhibitions and their work can be found in the collections of the Art Institute of Chicago; Museum of Contemporary Art Australia, Sydney; National Gallery of Australia, Canberra; Tate Modern, London, amongst others. Harding is currently a Postdoctoral Research Fellow at QCA, Griffith University, and lives and works in Brisbane.
Sam Hultin is an artist based in Stockholm, Sweden. Their work is based on their interest in queer history, identity and community and explores connections between personal experiences and political and social structures. Through city walks, sing-alongs and anniversaries Sam often invite queer communities to activate parts of a queer history together with them. Sam's work is represented in the collections of Moderna Museet, Stockholm, Statens Konstråd, Gothenburg Museum of Art, and Malmö Art Museum.
The KILOBASE BUCHAREST collective was initiated by Dragoș Olea in 2010 together with Ioana Nemeș (1979 – 2011) as an artistic project that took the form of a nomadic art space. Gradually KILOBASE BUCHAREST became a hybrid curatorial practice. Starting in 2016, KILOBASE BUCHAREST is conceptualised by Dragoș Olea (of Apparatus 22 art collective) and curator Sandra Demetrescu (Chief Curator of MNAC Bucharest). KILOBASE BUCHAREST explores three main topics: economy, queer, and Bucharest, drawing consistently from the local context. KILOBASE BUCHAREST curated, exhibited, and produced works or exhibitions at KULTURKONTAKT, Vienna; Oberwelt, Stuttgart; Eastside Projects, Birmingham; Viennafair, Vienna; Brukenthal Museum of Contemporary Art, Sibiu; Museion,Bolzano; CCN, Graz; Eastwards Prospectus, Bucharest, and SUPERSYMMETRICA Madrid.
Timimie Märak puts just as much in between the lines they write as in the words they choose to share. Like them, their poetry is a combination of deep roots and connections, read at a big city pace. As always part of various projects both in and outside of Sápmi. From reading poetry at La Biennale in Venice to acting in the newly released short film "Skádja" by Eili Bråstad Johanesen, recorded in Northern Norway/Sápmi. They are currently preparing for Arctic Art Summit in Yukon, Canada, whilst simultaneously rehearsing for "Tal till nationen," an election performance by Nasim Aghili premiering in September 2022.

Abdellah Taïa was born in Rabat, Morocco, in 1973. He is the author of nine novels written in French (and translated into many languages, in Europe and USA), including "L'armée du salut" (2006), "Une mélancolie arabe" (2008), "Infidèles" (2012), "Un pays pour mourir" (2015), "Celui qui est digne d'être aimé" (2017), "La vie lente" (2019) and "Vivre à ta lumière" (2022). His novel "Le jour du Roi" was awarded the French Prix de Flore in 2010. "Salvation Army", his first movie as a director, is adapted from his eponymous novel. The film was selected for the Venice Film Festival 2013, TIFF 2013, New Directors 2014 and won many international prizes. His novel "A country for dying", translated into English by Seven Stories Press, won the Pen America Literary Awards 2021.

Arnisa Zeqo is an art historian, curator and educator based in Amsterdam. She co-founded Rongwrong, a space for art and theory in Amsterdam and is now director of Kunsthuis SYB in Beetserzwaag. In 2021/22 she was researcher in residence at the Rijksakademie in Amsterdam where she worked on the intersection of (auto)fiction, performance, and printed matter. In 2015-2017 she worked for documenta 14 in Athens and Kassel, responsible for the education programs (aneducation) in Athens and initiator of the Society of Friends of Ulises Carrion within the Parliament of Bodies. The writings of Jane Bowels and June Jordan give a liberating feeling to her methodologies.
Supported by the Fritt Ord Foundation
---
---